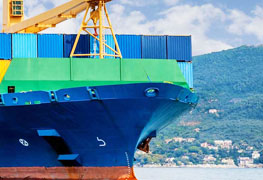 Whatever the cargo,
whatever the fleet,
whatever the service,
we make it happen...
GENERAL MARITIME COMPANY SARL, as Steamer Agents provides prompt, systematic and effectual agency services to vessels, principals and service providers.

From a professional centralized operational hub, our Agency Service's dedicated team provides outstanding communication and knowledge of ports, commodities and compliance requirements for ports of service in Cameroon namely Douala Port, Limbe Port, Kribi Port and caters to a full range of agency services in port.

With a proven track record in the shipping arena GENERAL MARITIME COMPANY SARL today is a trusted partner to many ship owners, charterers and operators in the region.

With a value added chain of strong relationships with concerned authorities, be it ports or customs, documentations and on-line accessibility, the manner of our operations will assure you of our commitment to your business.
At GENERAL MARITIME COMPANY SARL, making it happen for you is of supreme importance.